Kwik-PDU (Pattern Display Unit)
Patent No 2015/08178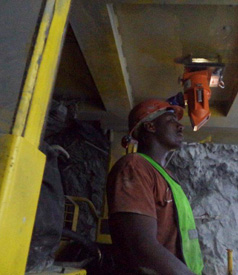 The KWIK-PDU (Pattern Display Unit) will revolutionize the marking off of tunnels in development ends.
The first production batch underwent severe shock, vibration, temperature, humidity, water and salt spray testing and all passed with flying colours.
Utilising the same principle employed on a fighter aircraft, where a predetermined as well as a changing pattern, is projected in front of the pilot's eyes. The KWIK-PDU provides a precise pattern indication for drilling, which ensures face holes which are accurately indicated. (Superimposed). This process to develop and improve this product took years to perfect.
Traditionally, the rock face to be blasted has always been marked with a paintbrush or spray can with the disadvantage of inaccuracy, waste of paint and more importantly – TIME.
With the use of Kwikmark's specially developed and designed software, this allows any given drill pattern to be converted onto a Gradicule® used within the KWIK-PDU.
These patterns vary from mine to mine and are normally designed or verified by the mines Blasting Engineer who also take into account the need to eliminate secondary blasting, strength of hanging-wall, rock-breaking patterns etc. Different patterns can be made for different applications.
The KWIK-PDU is compact, easy to use and with less than one hour of training, is ready to use once it is fitted to the clamping bracket on the canopy of any drill rig. The Drill Rig Operator then ensures that the correct Gradicule® is inserted into the KWIK-PDU which he then lines up with direction and grade lines on the rock face and locks it into position to prevent movement during the drilling operation.
After a short visit to India in 2014 we saw the opportunity to solve the problem in the Hindustan Zinc mines near Jaipur. The KWIK-PDU was the answer to their problem and this technology can be used throughout the world.
After the blast holes have been drilled by the Rig Operator, the miner may verify their positioning by viewing the pattern through the KWIK-PDU. Typical accuracies obtained are holes which are less than 50mm away from their intended positions. This results in controlled over break and leads to improved haulage advancement and reduces clearing time.
Since no physical marking of the rock is required, a time saving of up to 45 minutes is gained, which allows for improved underground activity management and supervision.
Scaling of the rock face during the drilling operation does not result in the loss of portions of the indicated drilling pattern. Due to controlled breaking by means of consistent patterns, socket lengths after blasting, are also minimised.
The lightening system uses 1 x AAA rechargeable battery. At a drilling distance of 9m (from cab to rock face) will cover a rock face area of 5m high by 5m wide when using a single pattern. Wider face coverage may be obtained by using overlapping patterns on either single or twin-boom machines.
Technical Information:
Dimensions:
257mm high x 135mm wide
Mass:
2,3kg (Optical Unit Only) ± 8kg Total mass
Illuminated Drilling Pattern::
Customised to user requirements
Rock Face Coverage at approx. 9m:
5m High x 5m Wide
Electrical:
Battery powered (1x AAA rechargeable)
Light Source:
LED Type
Operating Temperatures:
-20°C +60°C
Application:
Non-Fiery Mines Only
Wider patterns can be accommodated upon request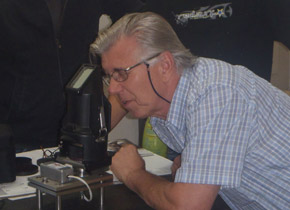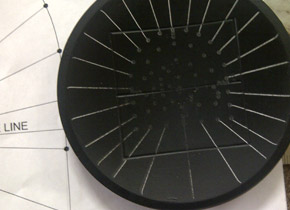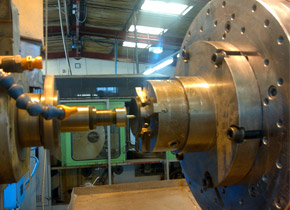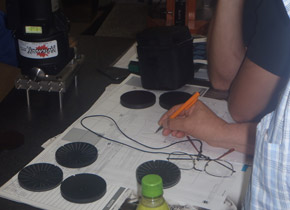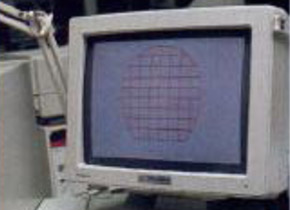 PDU Benefits and Features: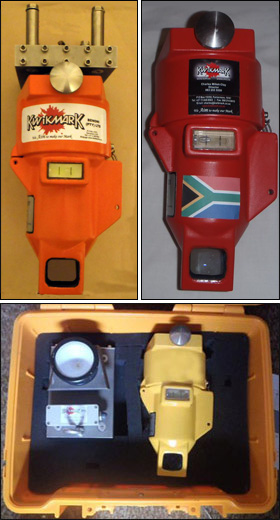 BENEFITS

FEATURES

No physical marking of the rock face is required
Time saving up to 45 minutes in measuring & marking off of the rock face allowing for improved underground management, supervision & production.
Fast, accurate matrix indication results in correctly spaced & accurately located face holes
Scaling of rock face does not result in the loss of portions of the indicated pattern
Minimised socket lengths after blasting
Control of over break resulting in consistent, improved haulage advancement & reduced clearing time
Improved safety due to reduced human presence at the rock face
Consistent improved haulage advancement
Exact drill positioning with verification before and after drilling.
Save costs on usage of paint as no need to physically mark off on drill holes

Compact & easily installed onto any drill rig and is independent (has own light source)
Rugged design ensures operation under the harshest of working conditions
Simple to operate. Only one hour training time required.
Fast and simple alignment with center and grade lines.
Direction Lines for drill hole Indication.
Image position lockable after pattern positioning
Verification of Face hole position before and after drilling
Low Maintenance
Can be used on declines or inclines of up to 15 degrees
Full after sales service and product support by the manufacturer.
Utilized commercially available spare parts.
Designed & manufactured in South Africa
Customized drill patterns
Drill holes on drill pattern can be changed by using different color lenses
Saving on Paint:

Petra Diamonds, Cullinan Mine informed us that in one section only the paint bill saving is approximately between R20 000.00 to R25 000.00 per month.

Bathopele Mine, East Shaft informed us that their paint bill saving is approximately between R14 000.00 to R16 000.00 per month in one section only

Modikwa Mine says that in one section only, their paint bill saving is approximately between R15 000.00 to R20 000.00 per month.

By using the KWIK-PDU, paint can be reduced by approximately 90%.
Drill Pattern superimposed onto the rock face when viewed through the KWIK-PDU