Kwik-Spot
Blast Hole Projection
KWIK-SPOT is a projector along the lines of a slide projector but instead of using a photographic slide, it uses a metal graticule drilled by means of a computerised machine center. The complete drill pattern is drilled on the gradicule (up to 150 holes) which is suitable for tunnel sizes ranging from 10m2 to 48 m2. The light source is a High End Power LED type.
Focusing of the drill pattern is done through a zoom lens which can increase or decrease the distance between hole spacing until correct focusing is achieved. Other marks such as center line and grade lines can also be included. The projector is placed on a surveyor type tripod. A tilt head enables the projector to be leveled and directed at the rock face.
The projector is normally placed 8 to 10 metres from the face, approximately 1,5 to 2,5 metres above the footwall and more or less in the center of the tunnel. The light dots that appear on the tunnel face are 50 mm in diameter. The power source is a 1 x 3.7 Rechargeable battery.
Technical Information: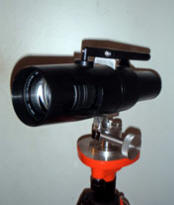 | | |
| --- | --- |
| Length: | 300 mm |
| Height: | 220 mm |
| Width | 100 mm |
| Mass: | 4,5kg |
| Battery: | 1 x LI-ION 3.7 Volt rechargeable |
| Globe: | High End Power LED Type |
| Brightness: | 600 Lumens |
| Burning Life: | 8.5 Hours |
| Charging System: | 220 Volt Floating Charge System |
A suitable robust carry case is provided to transport the projector.
Features:
| | | |
| --- | --- | --- |
| Robust | Easily Transported | Simple to Use |
| Low Maintenance | Safe | Reduces Overbreak |
| Battery Powered | One Man Operation | Saves You Time and Money |